Relieves muscle contraction, deep expression lines, small face, and other problems

Botox is not only effective in stopping wrinkles. Botox can also be used for facial thinning, hyperhidrosis, pore reduction, and suppression of sebum secretion. We often hear comments such as, "My skin feels smoother," or "I have less acne.
Effects of Botox injections
Improvement of expression wrinkles
Elimination of gills, small face
Control of sweat volume and odor
Suppression of hay fever
Recommended for
Noticeable furrows between the eyebrows
Vertical lines that form when you frown
・Lateral wrinkles at the base of the nose that form when you smile or frown
・Wrinkles at the corners of the eyes that form when smiling
・Dried plum wrinkles on the chin
For those who want to refresh their face line.
Those suffering from hyperhidrosis of the armpits
・To prevent deep wrinkles in the future
・Acne that has not improved after trying various treatments
<target area>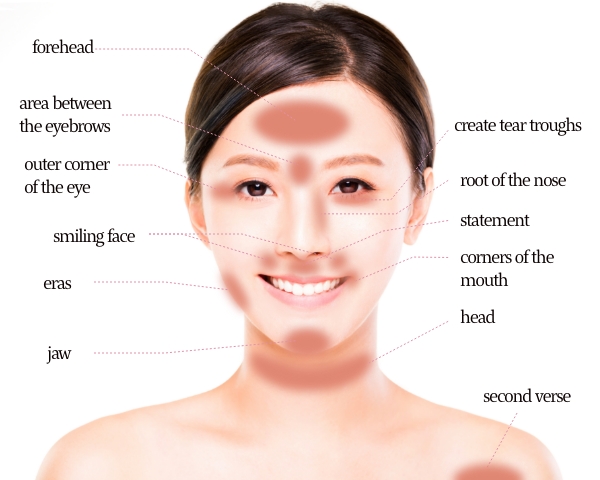 Features of Botox injections
POINT.1
Not only wrinkle improvement but also sebum suppression and other effects
Botox is a muscle relaxant agent that, when injected, reduces muscle contraction and wrinkle formation. Botox injections also improve the appearance of pores and reduce excessive sebum production and perspiration, thereby reducing the appearance of makeup.
POINT.2
The only drug from Allergan, Inc approved by Ministry of Health, Labor and Welfare
Botox treatment is a treatment that uses botulinum toxin produced by botulinum bacteria to inhibit neuromuscular transmission, resulting in muscle relaxation.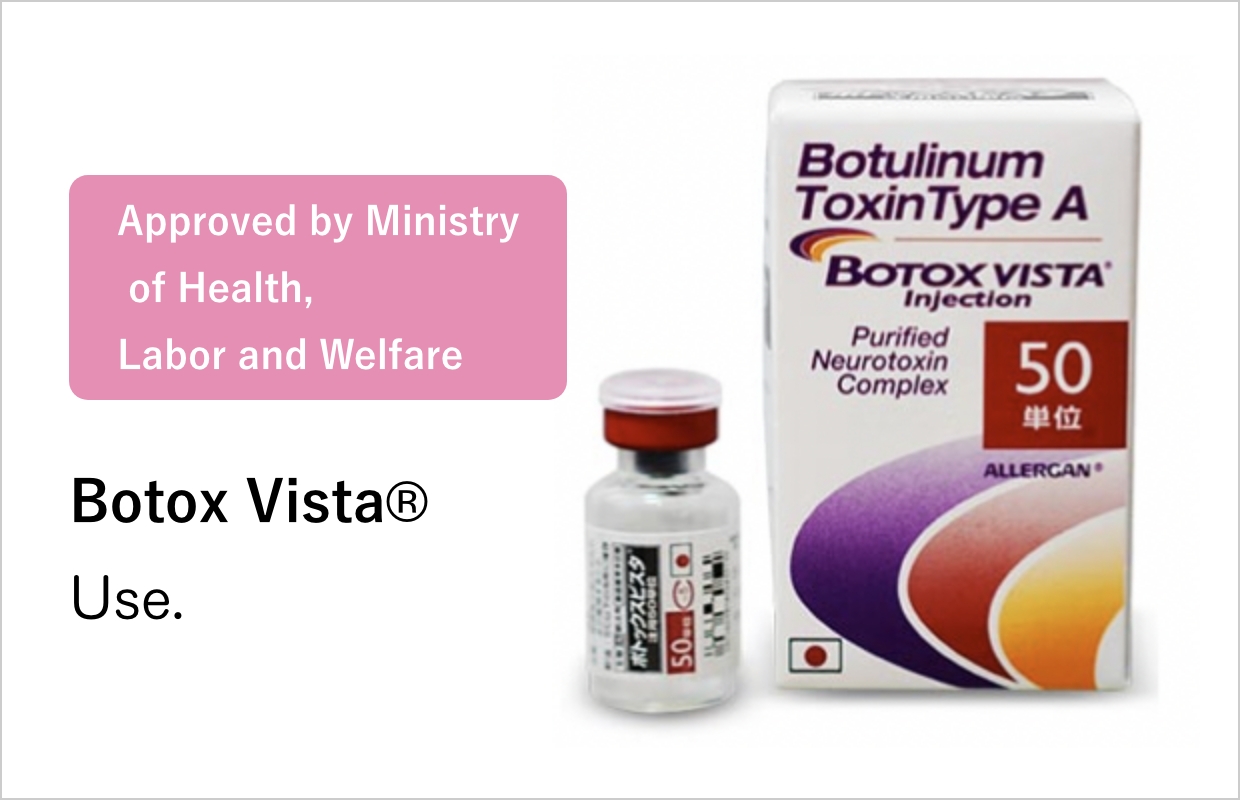 The Botox injections used at TOKICO Clinic are Botox VistaⓇ , a formulation made by Allergan Inc. of the United States, which boasts a high market share in the world. Compared to other formulations, Botox Vista® is superior in safety due to thorough quality control of temperature changes and other factors, and it is highly effective in pinpointing the effects of treatment. Botox Vista® is only approved for use by physicians who have attended Allergan's training and practical skills seminars and fully understand the efficacy, safety, and handling of the drug.
POINT.3
Effects last 4-6 months.
The effects of Botox injections begin to be felt 2-4 days after the procedure, depending on the individual, and for wrinkle improvement, a firm effect is seen after 1-2 weeks. The duration of the effect is about 4 to 6 months, gradually weakening. Generally, the effect of the second and subsequent treatments lasts longer than the first.

POINT.4
Less downtime
Downtime for Botox injections is minimal, and most people can apply makeup immediately after the procedure and live their lives as normal. Post-treatment symptoms include swelling, pain, internal bleeding, and discomfort, which subside within a few days. In rare cases, symptoms may persist for up to a week, but will improve with time.
Which one is the best for you?
If you are not sure, please consult your doctor.
Price
| Name of treatment | Amount/frequency of use | Price |
| --- | --- | --- |
| Botox injections | Eyebrows and gummy smile | ¥33,000 |
| Botox injections | Forehead, corner of eyes, between eyebrows & nose, corner of mouth, chin, lips | ¥44,000 |
| Botox injections | Armpit, gills, neck | ¥71,500 |
| Botox injections | hay fever | ¥14,300 |
Questions
Is there pain?

There will be some pain from the needle and the injection of the drug, but the needle is as thin as a hair and an anesthetic cream will be applied if desired. (The cost of the anesthetic cream is included in the fee.)



Can I start makeup on the same day?

Makeup can be applied.Internal bleeding could happen,but can be concealed with concealer.



Will Botox make me not sweat at all?

Sweating varies from person to person, from those who have stopped sweating to those who have decreased but still produce a little.



Does injected Botox disappear spontaneously?

Yes. It is decomposed and absorbed naturally and disappears.



I know someone who had Botox done and I thought it was scary because of the expressionless face, but is it safe?

There are different types of strikes that can stop wrinkles completely or improve wrinkles while maintaining a natural look. If you consult with us about what you want to achieve, we can do it without making you look scary.



Once I get Botox, do I have to keep getting it? I think it would be better to start when I am as old as possible...

We recommend starting Botox even before wrinkles are carved into the skin. Once wrinkles are etched into the skin, they are very difficult to correct. Also, you can take Botox whenever you feel uncomfortable, so you don't have to keep taking it.



Click here to make a reservation.

Copyright © 2023 Tokiko Clinic All Rights Reserved.