CoolSculpting is the latest partial body slimming treatment that reduces fat cells through natural metabolic effects by freezing only fat in a sherbet-like state without damaging non-adipose tissues.
Effects of Cool Sculpting
partial weight loss
Body contouring
Recommended for
Those who want to have a slim waist
Those who are concerned about belly fat
For those who want to slim their arms
Those with fat that can be pinched on the hips, back and thighs.
Those who want to lose some weight but don't want downtime.
Characteristics of Cool Sculpting
POINT.
No downtime, only 35 minutes!
Unlike surgery or injections, this treatment is simple and requires little downtime.
Simply put on the special applicator and relax for 35 minutes. There is almost no pain during the procedure.
Redness and raised skin may still occur after the procedure, but will subside in a few hours.
POINT.
Only fat can be reduced without burdening the body.
Research at Harvard University has shown that fat freezes at higher temperatures than other cells and can be treated without damaging other tissues. It is believed that as fat freezes in a sherbet-like state, fat cells die on their own and are expelled from the body.
POINT.
Hard to bebound!
The treatment is performed with a special applicator that is attached to the body. 20 percent of the fat in the treated area is reduced in a single session. Since the number of fat cells is reduced, it is said to be less likely to rebound.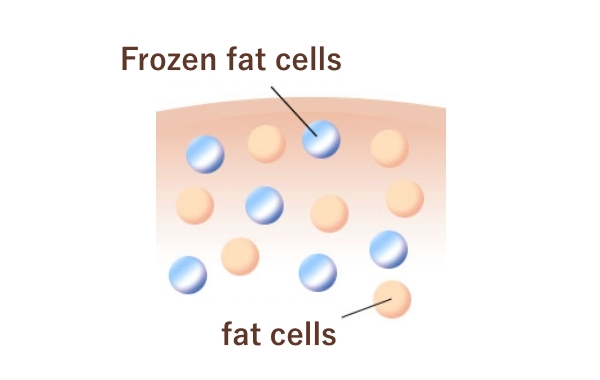 Flow of treatment
STEP1

A specially trained nurse will assess the fat and determine the areas to be treated.

STEP2

After the suction test, attach the applicator to the area to be partially slimmed.

STEP3

You will be asked to relax and wait for 35 minutes per site.

STEP4

Remove the applicator and massage the treatment area for approximately 2 minutes.
Treatment Time
Approximately 50 minutes per location
*The first session takes about 2 hours including assessment and counseling.
Risk Downtime
Pain due to suction may be felt during application, but it disappears with cooling. The second arm may experience temporary numbness in the fingers due to possible nerve compression during application, but the symptoms also improve when the applicator is removed.
Symptoms such as redness, internal bleeding, swelling, numbness, and paresthesia at the treated area may occur and disappear in one week to several months.
*Ministry of Health, Labor and Welfare approved machine.
Price
| Name of treatment | Frequency | Price |
| --- | --- | --- |
| Cool Sculpting | 1 place | ¥77,000 |
Click here to make a reservation.

Copyright © 2023 Tokiko Clinic All Rights Reserved.