TOKICO CLINIC has the highest number of POTENZA cases for 3 consecutive years in Japan.

potenza

More than 3,500 cases

POTENZA uses microneedles to deliver RF (radiofrequency, radio frequency) directly to the dermal layer to stimulate by heat. It is the latest machine treatment that can approach various problems such as melasma, skin whitening, pores, acne, acne scars, fine lines and wrinkles, and improvement of skin elasticity. In addition, the latest diamond tips are designed for skin tightening.
You will feel little pain with this procedure using anesthetic cream.
Effects of POTENZA
Improvement of melasma, hyperpigmentation, and dullness
Improvement of acne and acne scars
Pore reduction and improvement of fine lines and wrinkles
Improvement of skin texture such as skin elasticity and moisture
Skin tightening and firming effect
Recommended for
Those who feel that they have aged recently.
Fine lines and wrinkles, loss of skin elasticity
For those who want to energize their skin
Those who concerned about melasma and dullness
Those who want to achieve beautiful skin and anti-aging at the same time
Those concerned about acne and acne scars
Those concerned about sagging face and neck
Characteristics of POTENZA
POINT.1
Less pain and short downtime
Most conventional needle RF treatments are painful and cause long downtime, such as redness, etc. POTENZA is painless and can be performed without anesthesia in the melasma mode.
Redness may persist for a few days in the scar/water light mode, but is mild compared to dermapen or fractional laser.
POINT.2
Addresses a wide range of skin concerns
Collagen production occurs as a result of skin damage caused by ultra-fine needles, which stimulate wound healing. As the skin works to heal these small wounds, it improves turnover, blood circulation, fine lines and wrinkles, dullness, and pores. In addition, the diamond tip effectively applies heat from the skin's surface to the dermis layer, so that skin tightening can be felt immediately afterwards.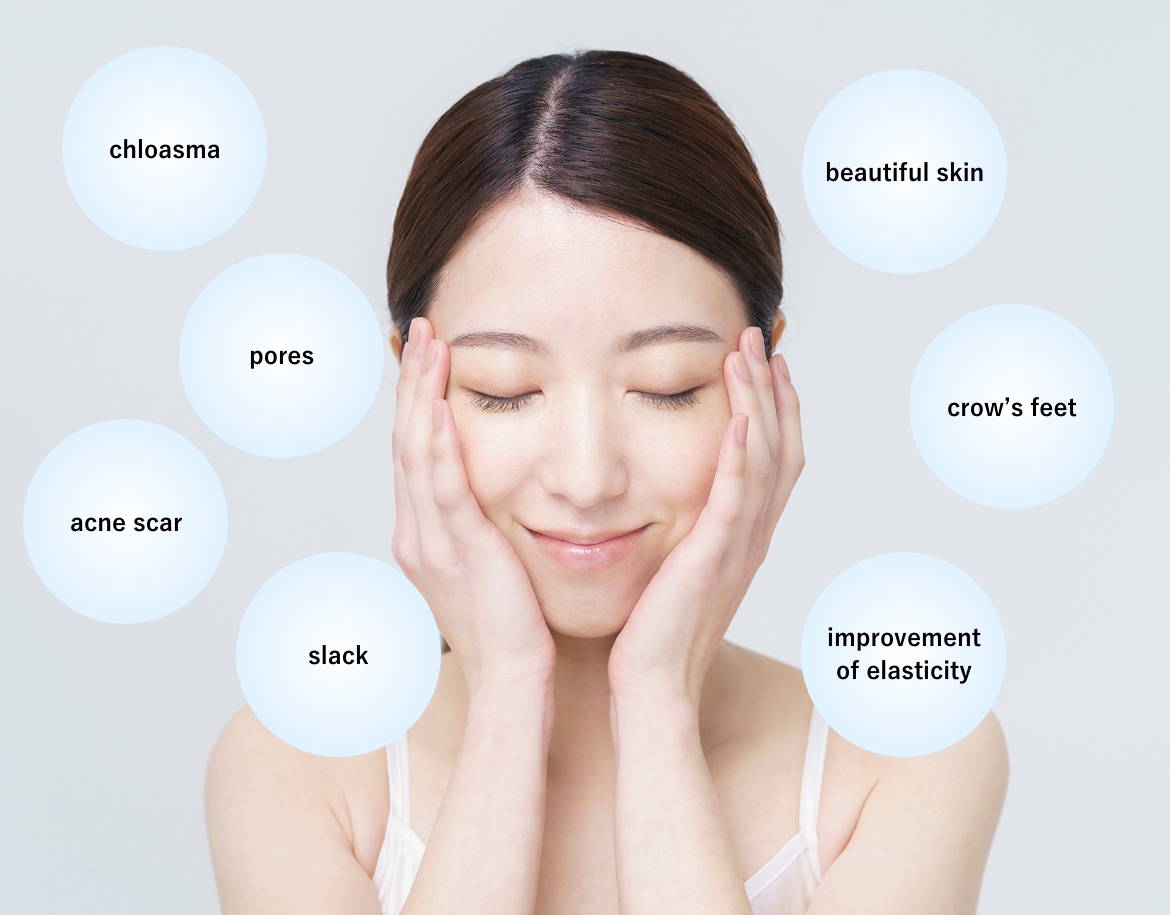 POINT.3
14 types of tips to suit your needs
Each POTENZA tip with ultra-fine needles has a different needle density and length. We use the appropriate tip and setting depending on the mode and skin condition.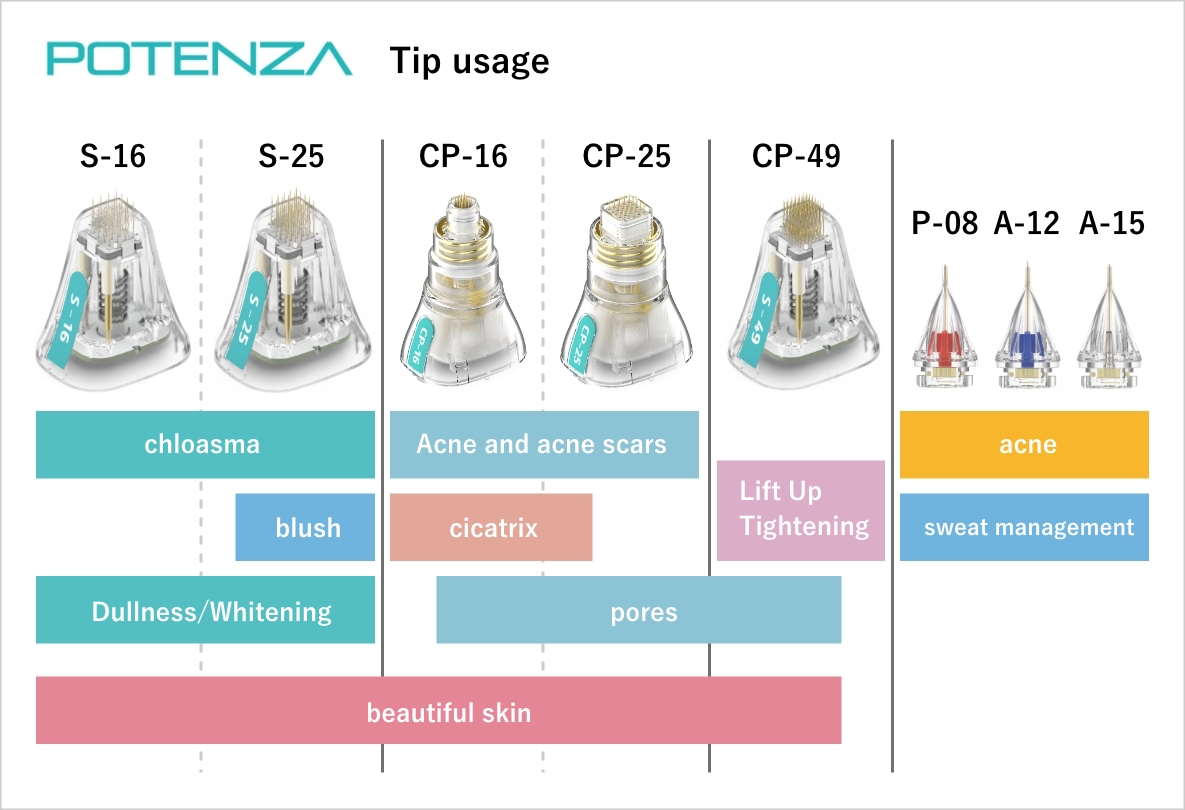 POINT.4
Triple action of wound healing, RF irradiation, and drug delivery system for more reliable results
POTENZA irradiates RF to the dermal layer, which causes collagen contraction immediately afterward, resulting in a skin tightening effect. Thereafter, collagen production takes place due to the wound healing action that occurs to repair the damage caused by the thermal stimulation, leading to an increase in skin firmness and elasticity.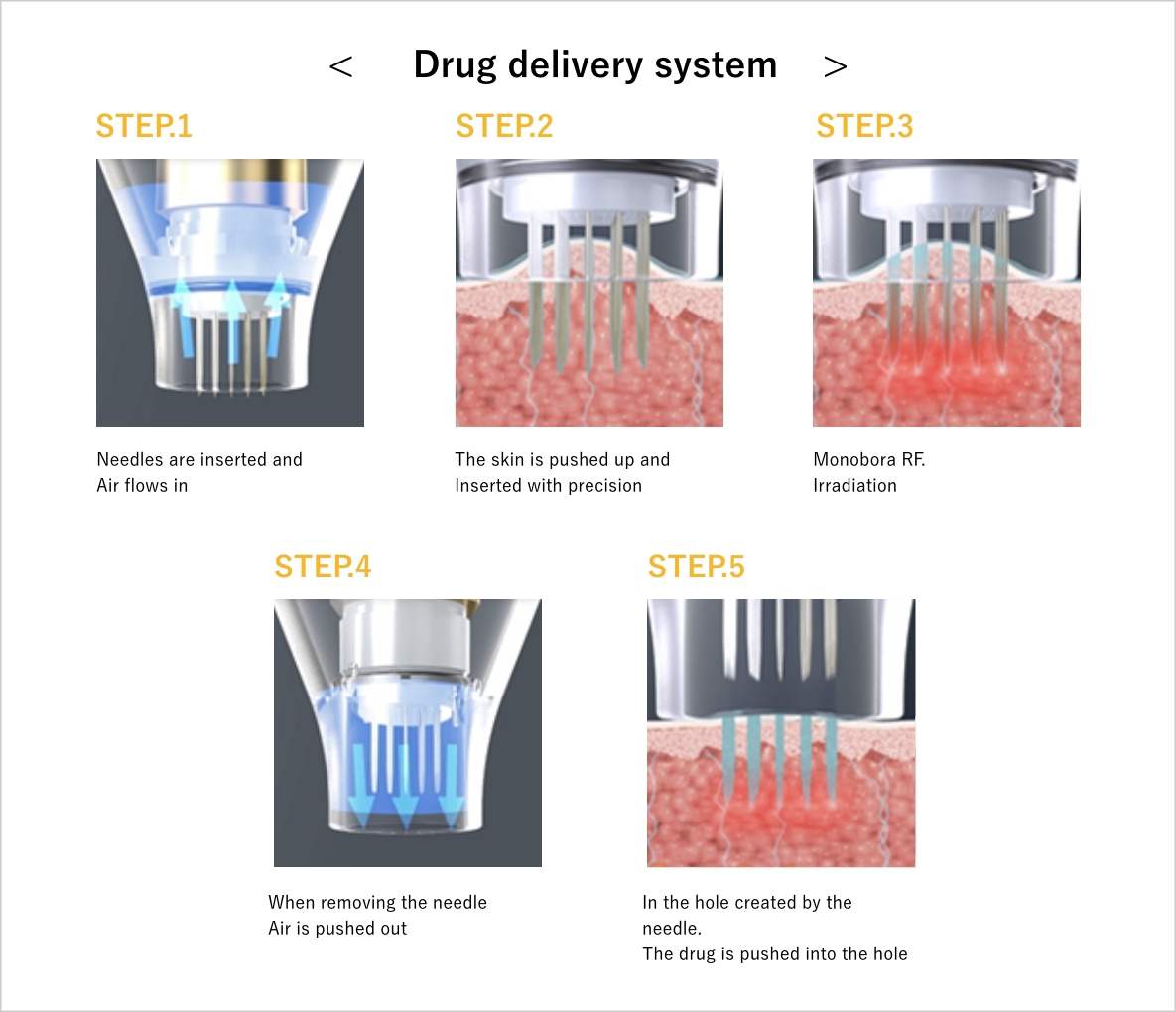 POINT.5
Improvement of sagging face and neck with diamond tips
The diamond tip uses a unique irradiation method in which monopolar and bipolar are irradiated in a single shot. The monopolar dermis is tightened by applying heat to the deep dermis layer, while the bipolar simultaneously tightens the skin surface by applying heat to the shallow layer of the epidermis cara dermis.
Collagen contraction produces an immediate skin tightening effect, and heat-induced fibroblasts stimulate collagen and elastin increment in the mid- to long-term.
This is a revolutionary tip that is less stressful on the skin and causes little pain or downtime, yet maximizes results.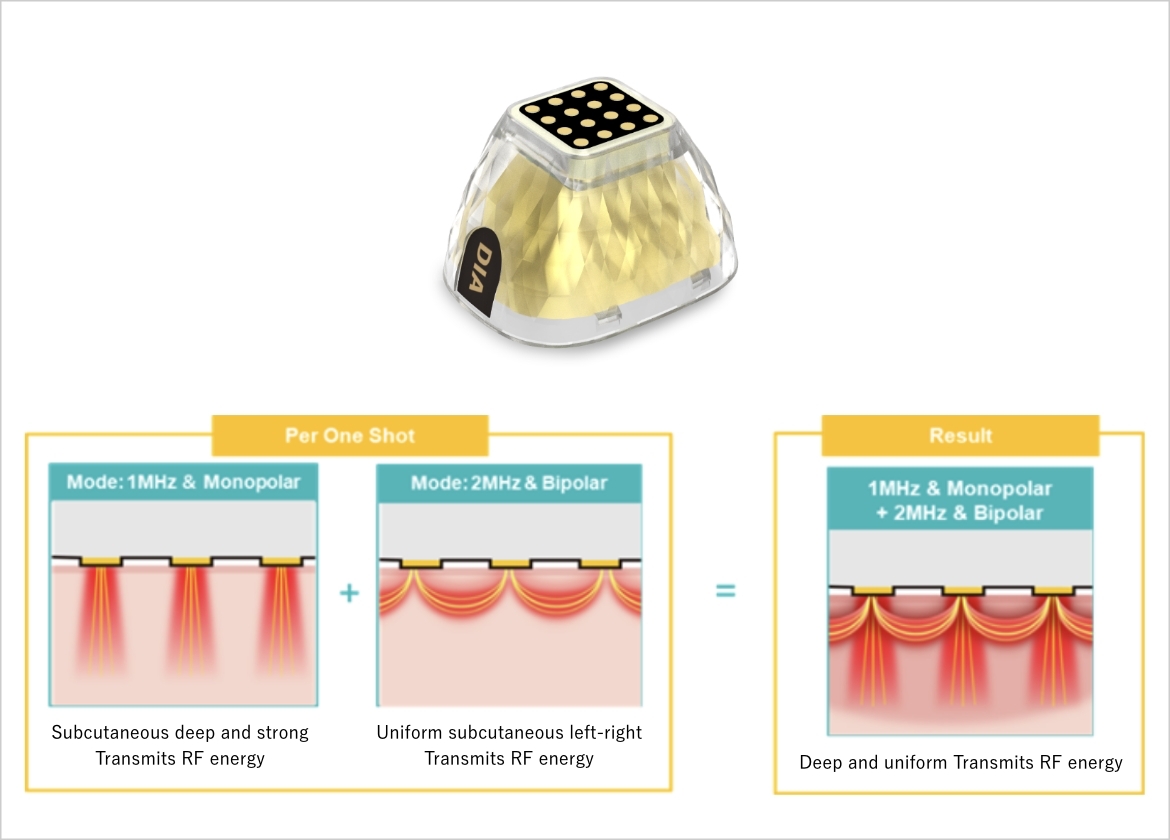 Difference between Potenza and Dermapen
One of the most common questions raised by patients is the difference between the Dermapen and the Potenza. Both procedures utilize the wound-healing effect of microneedling, but there are some differences between the Dermapen and Potenza as follows
Compare with dermapen!
POTENZA
dermapen
Drug penetration

A needle is used to make a hole at a precise and constant depth and directly inject the drug

Apply the drug to the hole drilled with a needle.
down time

0 to 3 days*.

2 to 7 days
pain

Depth can be adjusted, recommended for those who are anxious about pain

prickling pain
Scope of effect
Wrinkles, fine lines, sagging, dullness, pigmentation, melasma, acne scars, scars, firmness improvement, whitening, moisture, tightening
Wrinkles, dullness, pores, acne scars, scars, elasticity improvement, luster
safety

This machine has been introduced in many countries around the world as a highly safe treatment method, and we can confidently recommend it to first-time users.
*In very rare cases, symptoms such as internal bleeding will disappear within a few days to a week.
Price
Name of treatment
Treatment Details
Frequency
Price
POTENZA
skin whitening
one inning
¥44,000
POTENZA
Iron
one inning
¥55,000
POTENZA
aqueous humor
one inning
¥69,300
POTENZA
scar
one inning
¥88,000
POTENZA
acne
one inning
Half face ¥88,000 (including needle fee)
Full face ¥176,000 (including needle fee)
1 piece ¥3,300
Needle ¥11,000
POTENZA
diamond
one inning
¥77,000
Click here to make a reservation.

Copyright © 2023 Tokiko Clinic All Rights Reserved.